The history/story of Port Grimaud: the dream of François Spoerry
It is a story that we do not get tired of telling our clients: the one of Port Grimaud and its emblematic creator, the Alsatian architect François Spoerry.
The architecture was not initially a vocation to go into construction and design. He wanted to be a sailor but failed to get into the navy because of his problem with his eye-sight. He, later on, changed his dream and became an architect.
As a young man, he loved sailing a lot and especially with his small boat. He would usually go to Greece with his buddies.
On this particular occasion, he had noted that it was difficult to dock his boat besides his holiday home. It was from his travels that he had the idea of a lakeside city. His dream was to be able to have his boat next to his house, and he devoted the rest of his life to achieve this ambitious project.
The conditions required for the creation of the lakeside city
To realize this crazy project, it was necessary to him to find flat ground because you cannot dig canals on a hill or through a marshland for example. Land next to the sea seemed ideal.
Here precisely, in the heart of the Gulf of Saint-Tropez, a marshland was put for sale in the 1960s. This land, the Locals both feared and loved. It was certainly appreciated by fishermen and hunters, but it was heavily plagued by mosquitoes.
Map from the 1950s: back then, Port Grimaud was only a marshland
To give life to this Utopia it was also necessary to fulfill another condition.The road had to be slightly indented from the sea. In fact, anyone could go to sea without crossing a bridge with a sailboat, no matter how small the boat was.
Also, with a sailing boat 15 meters high, it is necessary to make a bridge 15 meters high or even higher, which is absolutely unthinkable.
He, therefore, had these two conditions well in mind and began looking for land. This land, he found here. It had a total surface area of 30 hectares and it had been on sale for 7 years. Nobody wanted it, and it is said that this was exactly what he needed.
Port Grimaud, far more than marinas
François Spoerry had to fight for another four long years to obtain the building permit. It was in June 1966 that the first houses were built out of the sand. In barely four years, the swamp became an interlacing of peninsulas and canals, a mosaic of streets and squares which create a real village.
François Spoerry dream wasn't to build only a marina. It was not just to be able to park his boat. He really wanted a community life. A life where we can go shopping, get together, go partying. There was, for example, a common house, yachts clubs, a cinema, a school and a church.
The church is the symbol of a community: it is actually an ecumenical Church.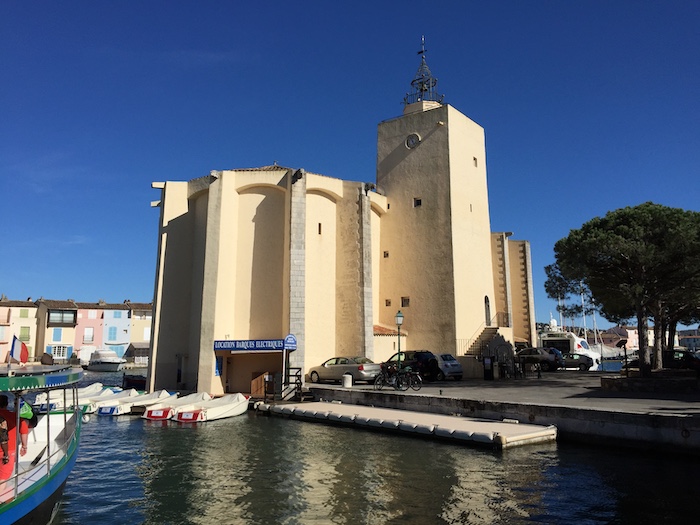 François Spoerry was of Protestant origin, but the environment of the South of the France was and remains rather Catholic. Therefore, he had this idea of an ecumenical Church where accommodating everyone was possible.
'L'architecture douce' against coastal concrete
The French were increasingly flocking towards the seaside for their holidays and the Côte d'Azur became highly urbanized, there were even concrete home in some places. François Spoerry rather wanted the contrary. He wanted tourists to spend holidays in Port Grimaud, in a protected village, A typically provincial atmosphere. He called it "L'architecture douce" It is an interesting choice of words that evoke the idea of doing something that integrates delicately and sensitively in what makes the character of a region. For example, to build provencal in Provence, Lebanese in Lebanon...
The symbolism of Port Grimaud
Port Grimaud is not the only lakeside city in Europe, it is far from it. The village received the nickname of Venise provençale and yet it looks like neither Venice nor Annecy nor Martigues to cite places close to us. This is, in fact, the basic concept, it was necessary that he could reach his house with his car to unload his groceries and his luggage and have his boat he could use to go out at sea. This, therefore, established a principle which is the inferencing of the fingers of the Earth and the fingers of the sea. This means that from the tip of your finger of land, you can find a road which would link you to the rest of the mainland and from your home with your boat, you can reach the sea without crossing a bridge. This made a very original plan.
It is a very beautiful symbol because it is precisely the idea of integration at work here.Integration of the Earth and classic marinas is just the opposite. A marina, it is a dock for boats. You have buildings on one side, parked cars outside and docking for boats on the other. In other words, it comes to zoning. While here, everything is nested. You have everything at the same time. You have the boat, home, pedestrians and trees which are rightly at the height of the architecture.
The "provençales" houses: fishermen's houses, ostales, borderives, balandrines, hunières, portales
There are about 2,500 to 3,000 homes here, all divided into a dozen categories. This means that initially, there were fewer than 10 houses for the lakeside city plans. On the other hand, externally, there are no two similar houses.
The most sought-after homes are the fishermen's houses. They are among the most spacious and have two floors. Boutemy offers superb homes for sale in Port Grimaud. The words can make you smile because, at the mention of "Maison de pêcheur" term, one can easily imagine a modest shack at the edge of the sea and comfort. Here, it is just the opposite and living in one is the height of luxury.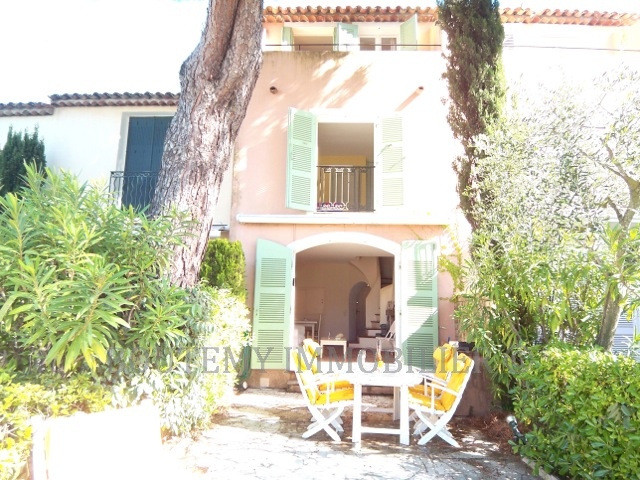 Keep in mind that Port Grimaud is only fifty years old and François Spoerry was anxious not implement decorations from cinemas or Disney tunes. He wanted an authentic village that gives the impression of having always been there. This is why many recycled materials were used during the construction.
The architect imagined using materials such as tiles, floors, tiles, and wood balconies: just what is a little bit visible with the aim that this appearance is something already widely used and not something new.
An exceptional holiday place
Port Grimaud was an immediate success. Most people here are boat lovers and lovers of the sea and have found here the dream of every sailor: you take your boat, you sail for an hour and you come back. It doesn't exist anywhere else!
Building on its success, Port Grimaud was expanded in the 1990s. Today, the city extends over 90 hectares and includes nearly 3,000 homes, 2,000 moorings and 7 km of canals that can go board a river boat. Beautiful properties are available for rent, including nearly 70 in the Boutemy real estate agency.
How to get and move to Port Grimaud
River boats are electric boats that are used as buses and whose aesthetics remind us of boats from Eastern Europe and the Middle East.
On land, cars are prohibited to tourists, only residents can have cars. You can, however, move with a scooter, as electric scooters which are used by Boutemy to show a customer the available homes for sale.
The nearest airports are those of Nice and Marseille and of course, you can dock at Port Grimaud with your own boat if you take a Mediterranean cruise.
Buy or rent through your agency Boutemy
Whether you want to live or spend the holidays, Port Grimaud is the dream location, the real estate agency Boutemy, located at Place des Artisans for nearly 20 years now, will help you find the property that suits you best. Our efficient and attentive team will try by all means to make your dream a reality.