Rent a property in Port Grimaud
In Port Grimaud, you can rent a house or apartment with a mooring
For those who are not familiar with Port Grimaud, it is a sparkling lakeside city situated in the Gulf of St-Tropez. Almost every House has the advantage of having its own mooring area, located just in front. Each differs from the others, be it in terms of the view over the Bay of St-Tropez or the size of the moorings. So between buckles and dry land, nothing is stopping you, you have everything at hand, a luxury that it is difficult to find in other tourist resorts in the whole of Europe.
The apartments are not excluded, as many of them too can be rented with their own mooring.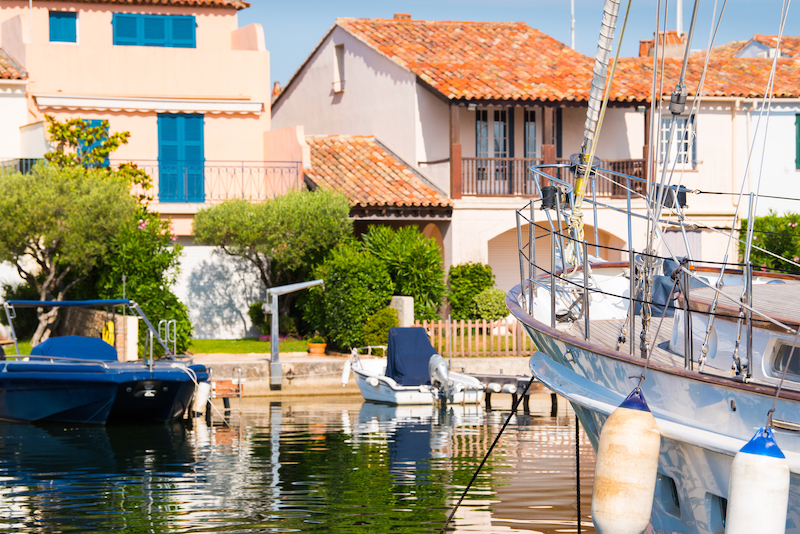 For rent on boutemy.net/en : flats with moorings of various sizes to better suit your needs. Copyright Alexis Toursel
If your apartment does not have a mooring, you can very well rent one on the spot because one of the peculiarities of this charming place is that everything is at your disposal and designed to make your stay as pleasant as possible. This is because, in a city like Port Grimaud, it is easier and faster to move by boat than on two wheels or by car. Water buses, hovercraft and electric carts are the preferred means of transport and are readily available as such to move in the city.
A real estate project that combines authentic provençal houses and quality infrastructure
Despite its young age, Port Grimaud resembles an old provençal village, today. Also,in addition to being a unique lakeside city in the Mediterranean basin, it is also equipped with an excellent infrastructure. It has become one of the most beautiful and most desired real estate projects in the world at large, with one of its biggest advantages is that it offers all the services of a modern port. Its 27 hectare stretch of water plan offers enough place on its side canals for yachts. Its depth is at least 2.15 meters and 3.50 meters minimum for that of the main canal.
The founder of the city, its architect, François Spoerry, began a visionary and ambitious project in 1966: To create a lakeside city. With 12 km of the quay, lined up with gardens and "fishermen's houses", which come alongside a number of boats. Today Port-Grimaud is one of the most visited provincial villages in France. An undeniable success in contemporary architecture, which comes from the name " Venise provençale".
Above all, do not be worried about being bored, because there are numerous forms of animations festivities, and hikes to engage in both day and night. For the majority, they are in love with the picturesque medieval village of Grimaud, which as its name suggests, is part of the same municipality. A present day haven of a very long history, all lovers of ancient stones and history will be delighted to visit this village. This hamlet dominates the coastal city and offers staggering views of the Gulf of St-Tropez.
Rent your villa or apartment in Port Grimaud!
But whether you want to rent a House, a villa, a Marina or an apartment, you will find professionals at your disposal through the Boutemy real estate agency. We are a member of the FNAIM and have been in service in the center of the city, for two decades. Feel free to visit our rental offers on this website to find your ideal home. As soon as you have found it, contact us at 04 94 56 56 58 to finalize your reservation. However do not delay, holidaymakers are often loyal customers who book reservations each and every year.
Rent a vacation home in Grimaud
Presentation of the village of Grimaud in Var
When you arrive in Grimaud, a small Provençal unusual village, there will be nothing like it. This friendly medieval city is as good as the most prestigious and less mundane destinations. But do not be fooled by it, diving into the picturesque does not mean boredom, just like having a good time in the countryside does not imply you are there only to pick daisies.
The appeal of such a city is obviously based on its land, thanks to the preservation of its cultural and architectural past. Therefore, this region has a strong tendency to fully use the great potential of exploitation it has in terms of ancestral culture, literature or musical projects (just to name a few). In this area, you will rarely witness so many opportunities gathered together to entertain you while educating you playfully at the same time.
Grimaud is also exploring, through long excursions made around the surrounding landscapes and through historical tours organized within the village itself. Thus, you can visit the magnificent Roman Provençal church of Saint-Michel (late 12th Century, early 13th Century). Built in granite and limestone, it has undergone a few changes in its original architecture such as the building of the bell tower in the 16th century and that of the sacristy in the 18th century.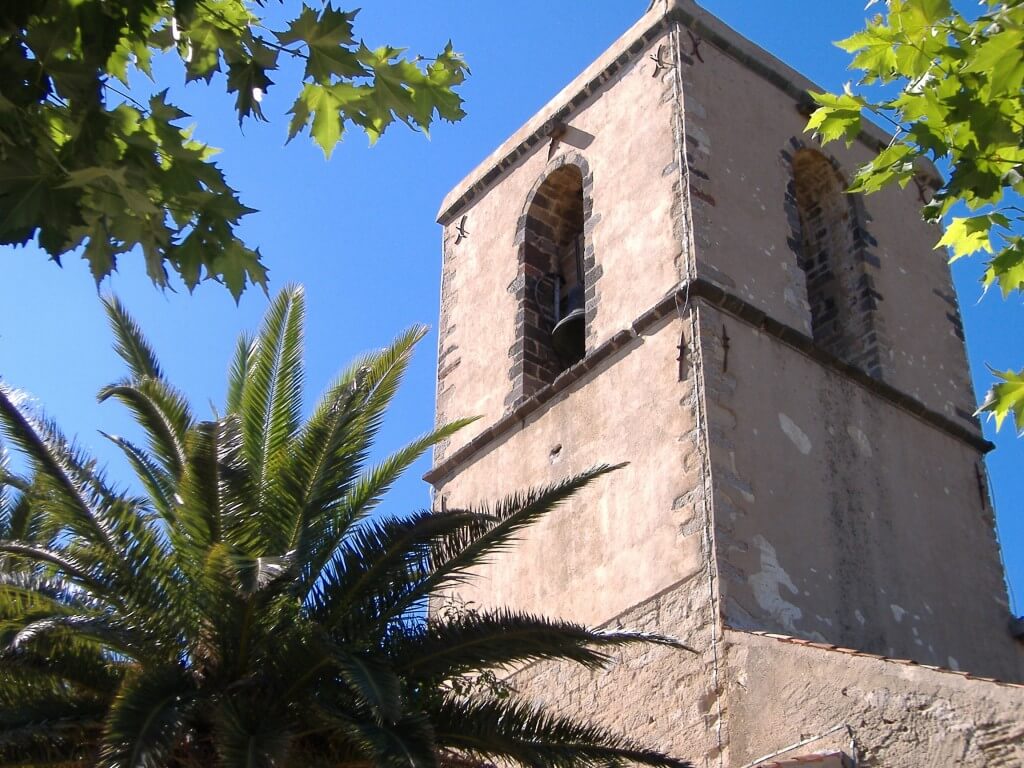 Bell tower of the Romanesque church Saint-Michel in Grimaud, 83310 Var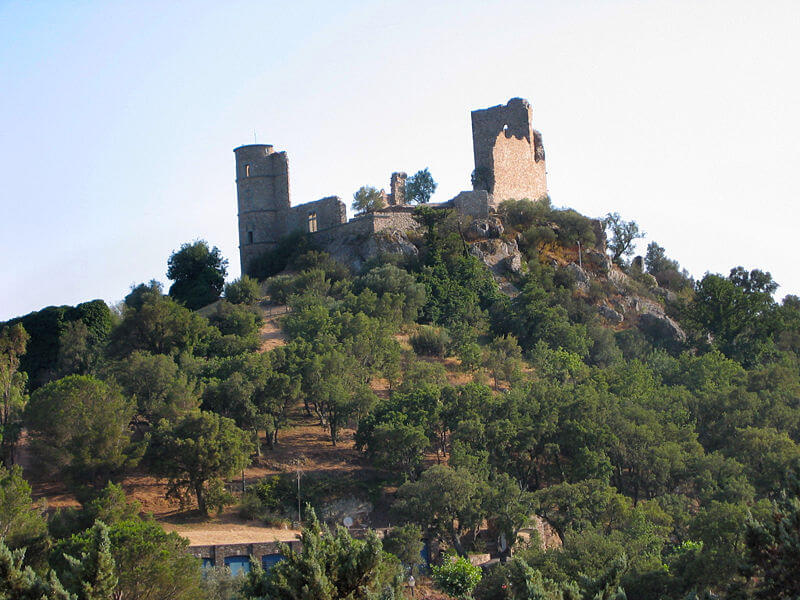 The streets of the village do not have names due to a local bye-law of 1958 that aimed at preserving the character of the old Provençal village. Thus, the Rue du Balladou (or the Balladou's street) has its origins in an old term meaning 'small ball'. The Grimaud museum of popular traditions and art sets to trace the rich history of these olden days when the water was scarce and toiling the ground was the main occupation of most locals. Indeed, it is through our ancestors' objects and tools of everyday life that this era is unveiling to us around every corner, while wandering.
As for the castle which has a sublime view, it is an eminence above the plain which undoubtedly has been visited since ancient times. In the 11th century appears the word castrum (fortified habitat), but over the centuries and at the discretion of the many noble families that followed, the castle experienced many expansion work hence the beauty it retained in spite of time.
The Castle of Grimaud overlooks the Gulf of Saint-Tropez
But let us leave for a time this leap in the past to talk about what modernity as brought to this ravishing place.
The shops of Grimaud
Apart from the indispensable medical centers of all kinds, our food trade and spaces allocated to beauty or nutrition, Grimaud is gifted with numerous workshops: This ranges from the manufacturing of leather accessories and leather goods of all kinds, to embroidery on various supports (customization of clothing and toiletries), as well as the essential special event management with its photo agency for all occasions and so many other options for every need.
However, let us not neglect to make a detour round the co-op 'Les vignerons de Grimaud' (Grimaud's winemakers) …because all that makes you thirsty, so a stop in the most important wine cellar of Var is unavoidable. This co-op counts 270 members whose farming stretches out to the very centre of the Gulf of St-Tropez, covering nearly 1000 acres of vineyards to farm. Therefore, for lack of water, let us drink with moderation but surely, a good quality vintage.
Renting in Grimaud
If this introduction left you mouth-watering and you would like to rent a studio, an apartment or a house in Grimaud, we invite you to contact us. Our team of professionals is at your disposal to help you find the rental of your dreams.
Copyright Alexis Toursel
Please note, however, that we offer mainly short-term rentals, holiday rentals more than year-round ones. So, if you wish to spend a week in the medieval village of Port-Grimaud, our agency 'Boutemy Immobilier' (Boutemy real estate) located in 32 place des Artisans in Port Grimaud will find the opportunity that suits your need.
We have many high quality properties to show you. Indeed, the owners who entrusted us with the rental management of their property only enjoy a few weeks per year in it. They are therefore particularly solicitous over its good condition and decorated it with taste. This way, you will be able to spend a beautiful holiday in a pretty Provençal village and in a spectacularly pleasant location.