Become the owner of a property in Port Grimaud
If you've ever stayed in Port Grimaud, you've certainly realized that becoming an owner yourself of a beautiful property in this lakeside city is a unique and rare investment opportunity as it is such a coveted area.
Not only do you have a variety of choices from the listed properties, but you have a lot of possibilities as regards choice, quality, and uniqueness of all kinds. This is a heavenly place with an undeniable tourist attraction.
Copyright Alexis Toursel
Port Grimaud is not only known as the "Venise Provençale", but it is a charming and ideal city who's received XXth century heritage status (a French label). It is also an organized complex where any professional can practice in any field they desire.
Housed at the bottom of the gulf of Saint-Tropez, it geographical location is a major asset to its inhabitants, thanks to its quick access to other areas and its countless number of tourist destinations nearby. It is also an unrivaled architectural ensemble, a universe on its own protected by its privileged lifestyle.
Port Grimaud possesses the peculiarity to be organized into private condominiums, which are solely responsible for its maintenance and preservation. Despite being a private space, the heart of the city opens up to visitors, who are always welcome to come to discover the city for themselves, but they would have to come on foot to maintain the peace and tranquility in the city at all times. These regulations have been put in place to maintain the unique quality of life in our community.
The lovely color palette of South of France houses
Buy a house or apartment in Port Grimaud
Generally, smaller-sized apartments are as much in demand as houses because, like the latter, they often have a major asset, their own mooring. In your own apartment, you get a similar feeling of luxury and security. This being said the smaller sized apartments have an advantage of being more affordable.
To give you an idea of what we offer, our houses are sold at about a million Euros, while you can get a beautiful and sophisticated apartment with 2 to 3 bedrooms at prices which range from 400,000 to 500,000 Euros. "Les Clés du Midi" publishes each year in June the rates of real estate property in Port Grimaud on its website.
Whatever your choice, depending on your budget or on how you want to use your property, you will definitely find happiness in Port Grimaud. Our properties come in various sizes and layouts to please all types of future owners. If you are an investor and you plan on buying and renting out, you are assured of a good return on investment.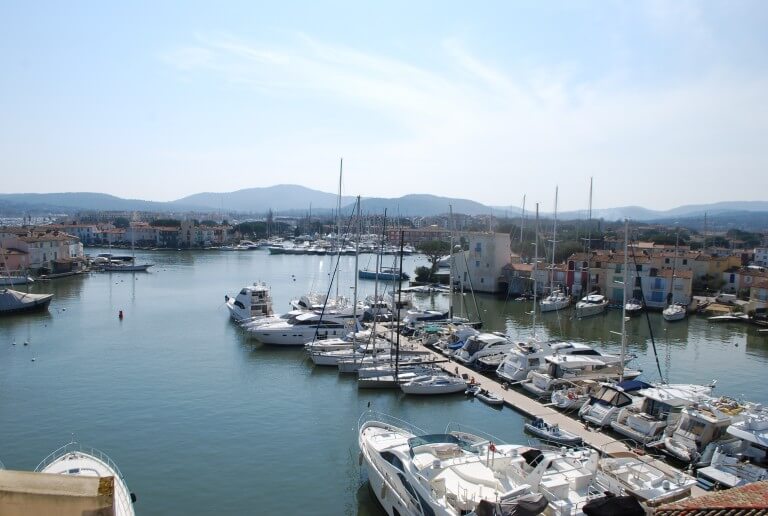 Buying a property in Port Grimaud allows you to spend wonderful vacation on the French Riviera while making a good financial investment.
Sell a house or apartment in Port Grimaud
Just as you were motivated by numerous reasons for the purchase of your property, selling it will hardly be a problem as this region is very appreciated. No need to revisit the reasons that may have guided you to your choice since they are likely to be the same which would persuade any future buyer looking for real estate property in Port Grimaud. Your preferences or needs can change with time, the city will remain well entrenched in its achievements and the many benefits it offers.
Whatever the nature of your real estate project, the agency Boutemy Immobilier is here to respond to all of your inquiries, help you find what you are looking for and sell your property. Our agency, member of the FNAIM (real estate label that ensures quality of service) is at your service. Our email is agence@boutemy.net or you can contact us by phone at 04 94 56 56 58 Monday through Saturday.
In the meantime, we invite you to check out our real estate portfolio.
Buy or sell a property in Grimaud
This Provençal village that still smells of yesteryear's scents, turns out having a breath taking quaint charm. In addition to its undeniably singular character, this medieval village guarantees you the most unusual environment. If you are willing to journey back to the future, what is better than purchasing a property in Grimaud, located two strides away from Saint-Tropez.
What is the price of real estate in Grimaud?
While the average price for an apartment is around 5,000 to 6,000 euros per square meter, that of a detached house varies around 6,000 to 7,000 euros. Obviously, this is just an average and the price per square meter is only indicative seeing that many factors come into play in the evaluation of the market value of a property.
Among the most important ones are:
The location of the property, preferably in a quiet area
Its exposure
The state of the property: is there any work to be done? is there need for redecorating? If so, prospective buyers will use that argument to try and negotiate the price. If you want to increase your chances of a quick sell, think about it, because in a dated interior decor, some potential buyers will be unable to picture themselves living in your house or flat even though the rest of the house would be perfect for them.
The view, the size of the garden and a bonus swimming pool

The opportunity to reside in a beautiful village of the Côte d'Azur

The medieval village is second to none and our ancestral roots have been strongly preserved and enhanced with time and space.

But do not be fooled by its apparent quietness, as if walled up in the past, because everything is a pretext for worthy animation through a plethora of activities.

This place is therefore a beautiful mixture of tranquillity, far from the rumbles of big cities, and a cocktail of explosive thrill and excitement when one contemplates the majesty of its legacy which sees our past living in our present.

Living in a lively village

In terms of entertainment, 'The musical nights of Grimaud' are a complete package planned for you. Created 30 years ago, this name was given in 2003 and since, it has established the reputation it still enjoys today. Extending throughout the year, these nights offer numerous diversity of quality music to the delight of audiences of all ages. The reputation of these nights has been forged over the years, both regionally and nationally, or even internationally and among great artists.

Les soirées musicales de Grimaud - October 2021

In Grimaud are also organized tennis tournaments, the race of Val de Gilly, one of the stop-overs of the Regatta Spi Dauphine, a gathering of Harley Davidson's motorbikes…. but also conferences, varied but unique fairs, or even cultural and literary getaways such as the European museums' night or book fairs. Let us not forget the Grimaud music tour which offers 3 concerts in 3 of Grimaud's most emblematic places, and so on.

This corner of medieval paradise remains highly sought after by jaunt lovers where a route of your choosing might take up a whole day. You could also opt for the novelty offered by Grimaud's tourist office: rides/hikes available on the website Cirkwi-Grimaud, where different outings are proposed on four routes as well as orienteering set up within the village to help discover it in a new light.

The proximity of Port Grimaud

Another advantage not to disregard is that Grimaud village and its harbor are part of a single municipality. You can therefore enjoy the benefits of a getaway 'feet in the water', while leaving your steps guide you to the market to soak up the delicate aroma of Provençal spices, and that more persistent of freshly caught fish from the Mediterranean Sea. This 'Venice of Provence' has so much to offer, it would be a sin not to experience it or unusual to dislike it.

Port Grimaud

More mundanely, let us consider the opportunities available to you if you decide to settle in Grimaud, but after what we listed above, how could it be otherwise? Let us therefore meet in Boutemy Immobilier agency, real estate specialist for two decades in Port Grimaud. You can start by visiting the website to take note of the deals accessible to you.