If you are feeling nostalgic about your holiday in Grimaud, why not seriously think about buying a summer property there, such as a comfortable apartment?
The charming village of Grimaud
Its medieval coast and the surrounding beauty are not the only unique advantages. The welcoming, warm weather that bathes this enchanting village only equals the intense emotion that you feel when you set foot into it. Anyone who stays there does not return untouched, as your heart is soon captured by a need to soon return. No one is fooled; its rustic dominance is only a facade behind which the most beautiful treasures are yet to be discovered.
Nestled within the Maures, bordering the Gulf of Saint-Tropez, Grimaud has certainly not lost its medieval character. A most charming village, with its cobbled streets that wind their way between the Roman church and the feudal castle ruins. The ancient residences are superb, as they have benefited from renovations beyond the scope of conservation. As for the village itself, you will find it perched on the side of a hill, amongst beautiful countryside.
Buying an apartment in Grimaud
Our agency has been operating in Grimaud for 18 years and is operated by a local, Marion Boutemy who knows the village better than anyone. Focusing only on real estate in Grimaud and Port Grimaud, the agency has built a solid reputation with local residents and business owners. It is for this reason that we can today offer you a portfolio of properties ranging from a small studio apartment to a magnificent villa with a view of the ocean.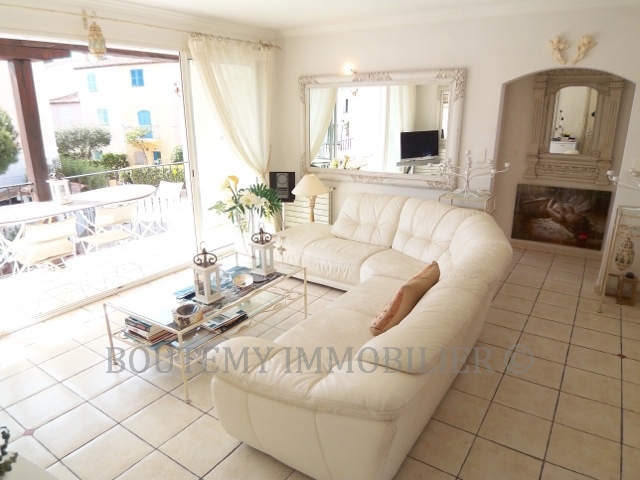 Apartment for sale with Real Estate Agent Boutemy
Apartments are amongst the most searched for properties. In fact, if everyone was a millionaire and could afford the luxury of a villa, footsteps away from the water, every week we would meet families with a budget consisting of between €200,000 and €500,000 and wanting to move to Grimaud. The majority of apartment buyers in Grimaud want to live there throughout the year, which is not the case in Port Grimaud where this is rather for investment purposes with a view of renting the property for holiday purposes.
It is estimated that the price per meter squared in Grimaud is around €5,000. However, this price can vary according to criteria such as :
the location of the property (close to local businesses ? schools ? the village center ?)
the floor on which the apartment is situated. Generally, an apartment located on the uppermost floor of a property with a lift is more expensive. In addition, you can count on a discount for an apartment on the ground floor, except if it has a private garden.
the exposure and a view over the Gulf of Saint-Tropez
the general condition of the apartment and the property. If work has been approved by the joint ownership, we will keep you updated as we would supply you with the latest minutes of the general assembly.
the amount of the joint ownership rates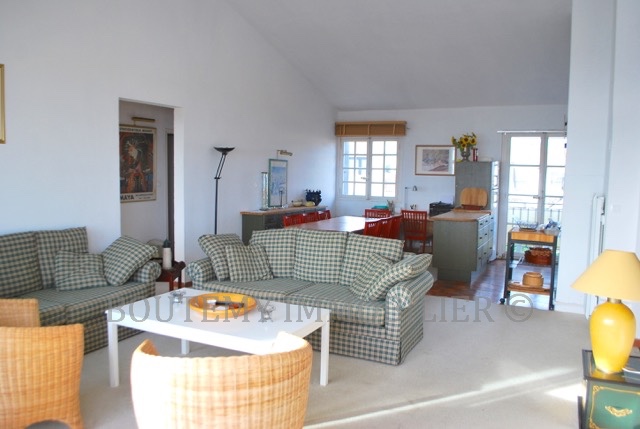 Large apartment with a sea view for sale
Selling your apartment in Grimaud
If you are a seller, we would be happy to be your realtor. We can assure you that it would be exposed to large visibility in order for you to sell it as soon as possible.
Therefore, you can count on :
our comprehensive portfolio of clients and potential buyers
a great listing on our sites boutemy.net and boutemy.net/en which receive hundreds of new visitors every day
an active marketing on our social networks, publication of our advertisements on video on Youtube and the edition of a quaterly magazine (Port Grimaud by Boutemy) which is widely distributed in the village.
With Boutemy, you know you'll be working with very active agents who are dedicated to selling your apartment.
Boutemy, your partner for the search and sale of your apartment
The Boutemy agency was founded about twenty years ago by the parents of Marion Boutemy, now the agency's manager. Assisted by Yael, they form a very dynamic duo that listens to their customers.
They know Port Grimaud and its region inside out and will accompany you throughout the sale or purchase process.
For sellers, it starts with an estimate as close as possible to market rates, so that you can get the most out of this sale without your property remaining on the market for too long. Then, Marion and Yael will advertise it in agencies, on the website, on social media, on the agency's blog and in the quarterly Boutemy Mag, distributed every quarter around town.
After presenting your property to a selection of potential buyers, they will be by your side until the deal is signed.
For buyers, the collaboration begins with a precise study of your expectations, desires and needs according to your budget. Then, we'll show you apartments that match your search criteria. If some properties require work, we'll help you plan it to determine whether you like it. We'll assist you in the price negotiation and up until the compromise is signed at the notary's office.
We sincerely wish to help you bring to life your real estate project in Port Grimaud.
If you are actually looking for an apartment or studio with mooring, please consult these listings.